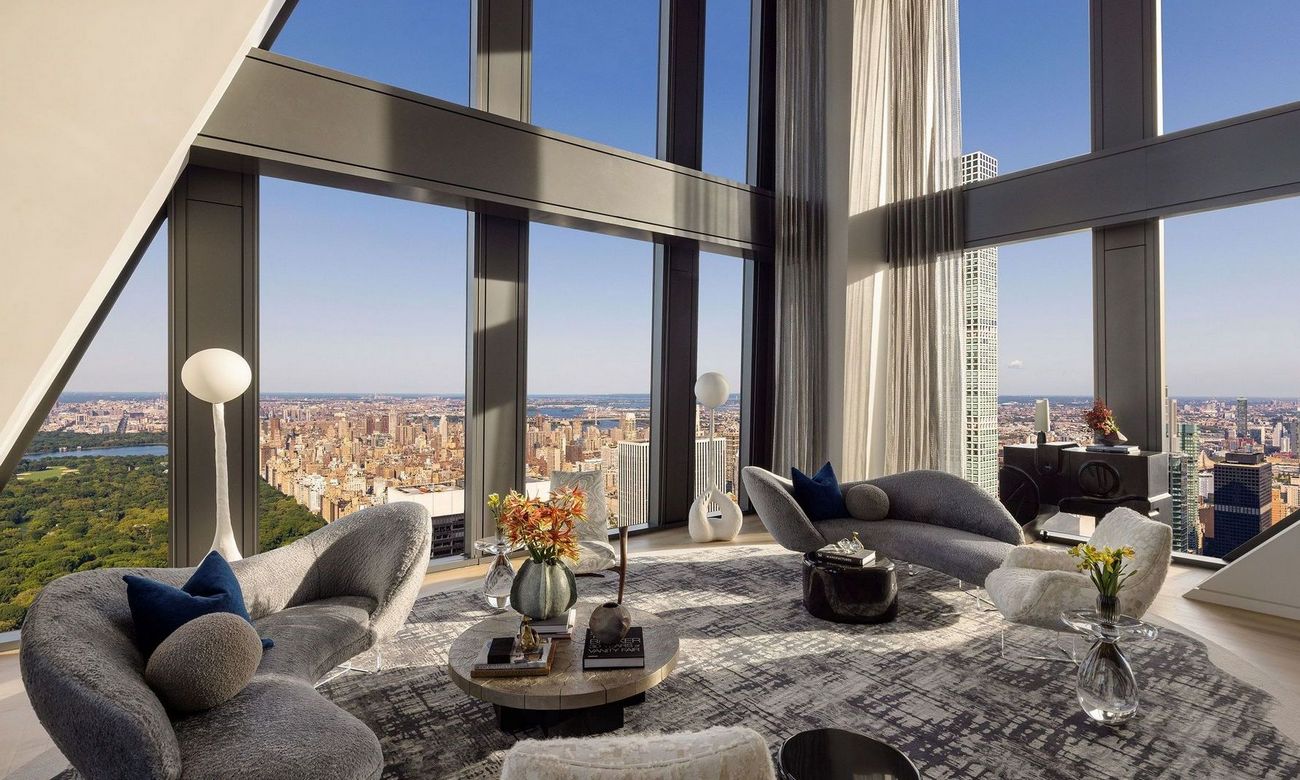 ELLE DECOR reveals a Manhattan Penthouse, brought to exquisite life by Fox-Nahem
There's been an influx of cloud-piercing New York City towers over the past 10 years, each staking its claim to Manhattan's increasingly crowded skyline. One standout is the 1,050-foot-high 53 West 53, a Museum of Modern Art neighbor developed by Pontiac Land Group and Hines and executed by the Paris-based Pritzker Prize–winning architect Jean Nouvel. Its distinct diagrid facade—an exposed structural system that frames the view from every unit in the building—is further elevated by a recent addition: the ELLE DECOR Penthouse.
The living room of the two-story ELLE DECOR Penthouse at 53 West 53 by Fox-Nahem in New York City. The sofa and accent chair are by Vladimir Kagan for Holly Hunt, the cocktail table is from Jean-Le Mounier for Maison Gerard, the Lucite table from Lorin Marsh, and the rug from the Rug Company. The clay installation is by Peter Lane and the totem (in background) by Casey McCafferty.
ELLE DECOR A-List designer Joe Nahem, of Fox-Nahem Associates, based in New York, brought the space to life. Few design firms are more familiar with the magazine. "I've been a part of the ELLE DECOR family for probably three decades," says Nahem, who, alongside his late business partner, Tom Fox, landed his first ELLE DECOR cover in his 20s. His approach to the space centered on the work of lesser-known artisans alongside pieces from more established brands. "ELLE DECOR is so diverse in the people that it represents. To me, that's always exciting." […]
From the ELLE DECOR design + decorate > house tours by Helena Madden
February 15, 2023